Click here to view church sermons, music, or other videos.



Click here to download Parental Consent & Liability Release Form.



Click here to download Hubbard Cowboy Church Arena Activities Waiver.



Click here to discover what your spiritual gifts are!

Our church is featured in The Baggy Bottom Boys' music video! Click HERE to see it!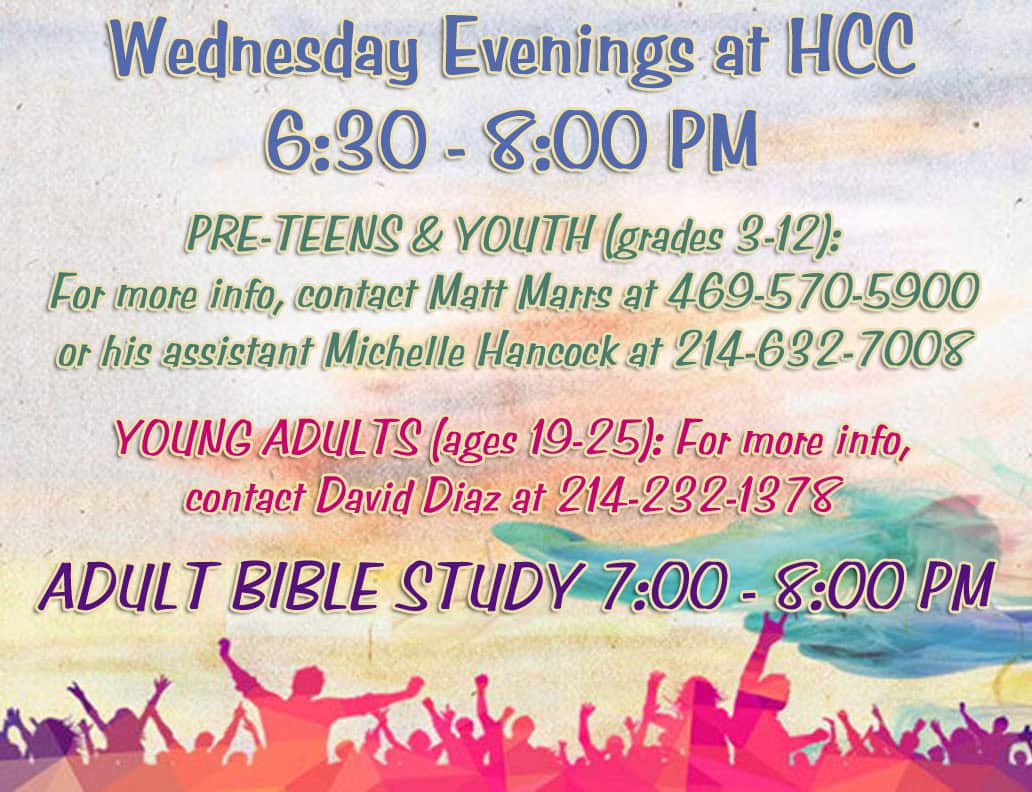 Please save your cans!
J.C. Kids is asking for you to PLEASE save your cans. They are raising money for new playground equipment. You may turn cans in to Barbara Boatright (903-229-2335).

Wednesday Night Groups (grade 3 through age 25) -
At HCC we have an amazing and growing number of young people who gather on Wednesday evenings at 6:30 - 8:00pm for fun, food, fellowship, and bible study. We have some fantastic adult leaders who are committed to working with these boys, girls, and young men and women throughout their transition into the adult world. Our goal is to turn them into upstanding citizens, future family leaders, and most of all, crusaders for Christ! For more information contact: (Pre-teens grades 3-6) Michelle Hancock at 214-632-7008, (Youth grades 7-12) Chris Foley at 254-495-0729, (Young Adults ages 19-25) David Diaz at 214-232-1378.

Open arena/barrel racing & playday practice (on hold):
Sundays, February 12th and March 12th at 11:40am, then after Daylight Savings Time begins, on the 2nd and 4th Wednesday of each month from 6-8pm. Check this page for a flyer with specific dates, or the online calendar. We will be practicing all playday events, including goat tying. Bring your horse (if you have one). If you don't have a horse, but want to try riding, come on - the Arena Team will be there to help you! Everyone is invited! You DO NOT have to be a member of the church! For more information, contact Ginger Self at (254)723-8948. ***Arena events will be CANCELED during cold weather if the temperature is below 32 degrees at noon on the day of the event***
JUMP TO CHURCH CALENDAR.

Children's Church & Nursery (JC Kids):
We have a fully equipped nursery available for infants and small children. Parents who would like to sit with, rock, or feed their infants are welcome to do so. We are always in need of more volunteers to work with the children's church on Sundays and sometimes for Wednesday night activities. If interested, please contact Kacee at (254)631-7098.

Music Ministry:
The congregation is encouraged to inform us if they know of any Christian Country artists or bands that might be interested in performing at the church. We are also looking for individuals who play an instrument and may be interested in participating in a "house band". Please contact Dakota Foley at (903)875-5257 with ideas or questions concerning the Music Ministry.

If you are interested in exploring your options of getting involved in one of our many ministry teams, please
contact
one of the Lay Pastors so they can help you find the right team for you.

We are posting sermons and music to the internet. Look for the sermons
here
and look for the music
here
on Vimeo.com

Prayer Chain/Prayer Requests:
Anyone interested in being in the texting prayer chain (or if you have a prayer request) should contact Paulette Rideout at 936-933-5011. Be sure to include your name the first time. Please limit your prayer requests to you, your family, or semi-emergency situations.

Let's all get involved in our church in one way or another so that we can spread the gospel of Jesus Christ far and wide both inside and outside of our community!
So whether you eat or drink, or whatever you do, do it all for the glory of God.
Donít give offense to Jews or Gentiles or the church of God. I, too, try to please everyone in everything I do.
I donít just do what is best for me; I do what is best for others so that many may be saved.
1 Corinthians 10:31-33 (NLT)


Hubbard Cowboy Church
†|†
Promote Your Page Too