In 2008, a small group of people began to gather on Sunday mornings in a very small, rustic metal building east of Hubbard, TX. They named it Hubbard Cowboy Church.

A member offered to let them use his red barn on the west side of Hubbard in 2009. The congregation steadily continued to grow until space became cramped there. In 2012, Hubbard Cowboy Church purchased 30+ acres south of Hubbard. There was a small barn existing on the property, and church members gathered to help expand the structure. On December 23rd of 2012, the first service was held on the dirt floors of the new location, and they continue to be held there today.

In 2016, as attendance was topping 200 people on many Sundays, it became necessary to hold two Sunday Services in order to accommodate the continually growing congregation. Plans were made for a new facility, and a concept drawing of the building was placed upon the wall of the dirt floor sanctuary. An announcement was made that the church must raise $50,000 before funds could be attained to start construction. The church raised over $30,000 in just a few months, even while continuing to make improvements on their outside facilities.

God has blessed this little church, and continues to do so! Please consider giving a gift of $150 to the building fund, and in return you will receive a keepsake card commemorating the little dirt-floor barn that brought this church and its members through four years of honoring God and serving the community.

Give a gift, get a gift with the everlasting value of 999.9 fine gold - the 'true money' that has steadily kept its value since 700 B.C., when Lydian merchants produced the first coins. Each card is embedded with 1 gram of gold minted in a LBMA certified refinery. Each card ordered will add $75 to the building fund, and that amount is considered a tax deductible charitable contribution.

Allow 3-6 weeks for delivery, as cards are manufactured in bulk as they are ordered. Reserve your card(s) now! Payment may be made with cash, check, money order, Paypal, or credit and debit cards. The "Pay Now" link on the right includes a $10 shipping charge, which will be refunded if you choose to pick up your card(s) at the church. Checks and money orders can be mailed to PO Box 278, Hubbard, TX, 76648 - please include $10 for shipping if they are to be delivered. (**International shipping may incur an extra charge.**)



Ezekiel 28:4(ESV) -
"by your wisdom and your understanding you have made wealth for yourself,and have gathered gold and silver into your treasuries"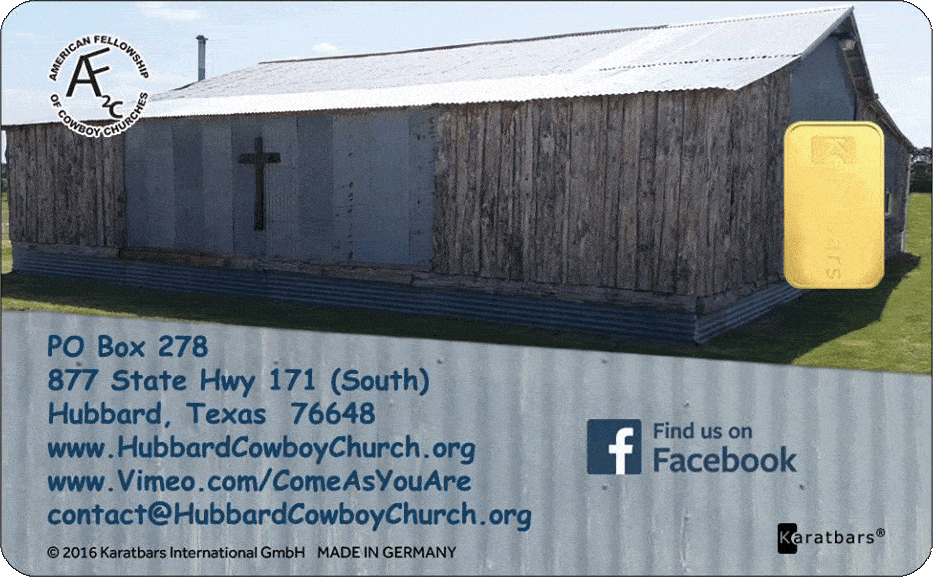 card front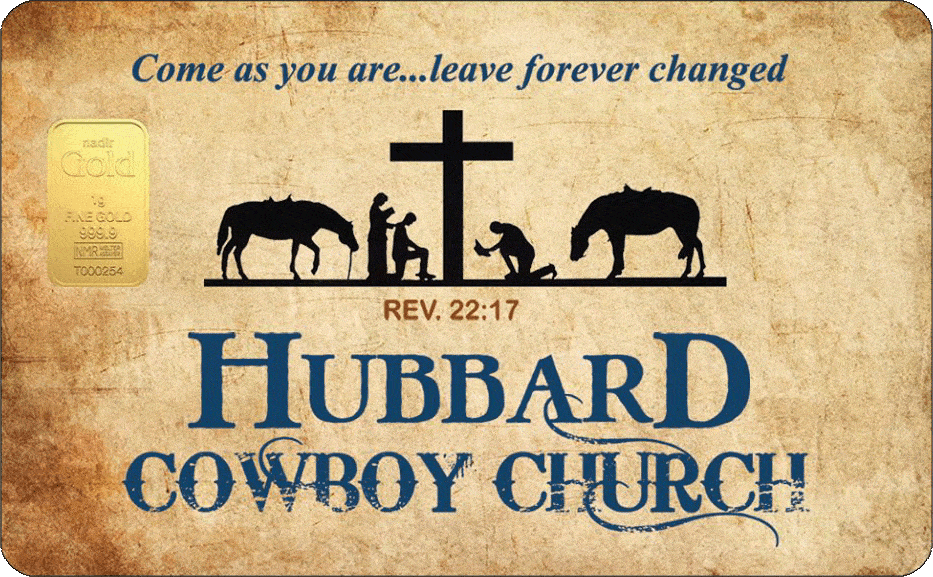 card back